"This is a very good program because it is about respecting us as Elders, what our needs are and whether or not we are comfortable with how things are worked out. …."
– Ironbark program participant
Aboriginal Elders are the keepers of our cultural knowledge, they are the educators in our communities teaching our young, supporting and maintaining connection to country and an integral part of Aboriginal culture.
The Ironbark Project is an Aboriginal healthy ageing research project. It compares two different programs which are run by Aboriginal people in the local community.
Are you looking for a program for Elders in 2022?
If your service is in NSW, WA or SA – get in touch now! [email protected]
Join one of our webinars to find out more, or check out our programs below!
What is the Ironbark project?
The Ironbark Project is an Aboriginal healthy ageing research project. It compares two different programs - The Ironbark: Standing Strong and Tall program (weekly exercise and yarning circle), and the Ironbark: Healthy Community program (a weekly social program).
Both programs run weekly for a year, and are for groups of Aboriginal men and women 45 years and older.
We think these programs will improve older Aboriginal people's social and emotional wellbeing, strength, mobility and independence, and prevent falls.
We want to work with sites that are urban, rural and some remote communities in NSW, SA and WA. Your service might be an Aboriginal Medical Service, Local Aboriginal Land Council, Aged care service, non government agency or government primary health service.
Contact the Ironbark team for an information pack
---
Have existing groups for Aboriginal men and women 45 years and older, or can form a group
Are led by Aboriginal staff
Have a space people can easily get to
Have existing staff, or can access external qualified staff to be trained in the program delivery
Ironbark: Standing Strong and Tall
---
A weekly class that runs for around 1.5 hours
30 – 45 minutes of light exercise and 30 – 45 minutes of a yarning circle
The program will run for a year, with additional weekly home exercise recommended
Ironbark: Healthy Community
---
A weekly group that runs for about 1.5 hours
Flexible in content, it aims to be a chance to yarn and discuss topics important to the group
and socialise
We train and fund your team to deliver one of the Ironbark programs, and collect data.
A locally based site manager will coordinate around 10 - 15 Aboriginal people to participate in the Ironbark program each week. Your service might have an existing group that could join the project, or you could form a new group.
We will train a staff member, or help find a suitable person, to deliver the program. We will provide all equipment, manuals, handouts and the training needed.
Jake Byrne, a Kamillaroi man, named the project because "the Ironbark tree, native to our land, evokes images of old, strong, trees standing tall and that is what we want to see our Elders doing. Standing tall and strong as they age."
Kylie Cassidy, a Wiradjuri woman, is the artist.
"The symbols I have used in the tree are representing land and water. The tree symbolises strength and growth, the root system symbolises life and staying grounded. Around the tree are dreaming symbols representing our people and our cultural connection."
---
---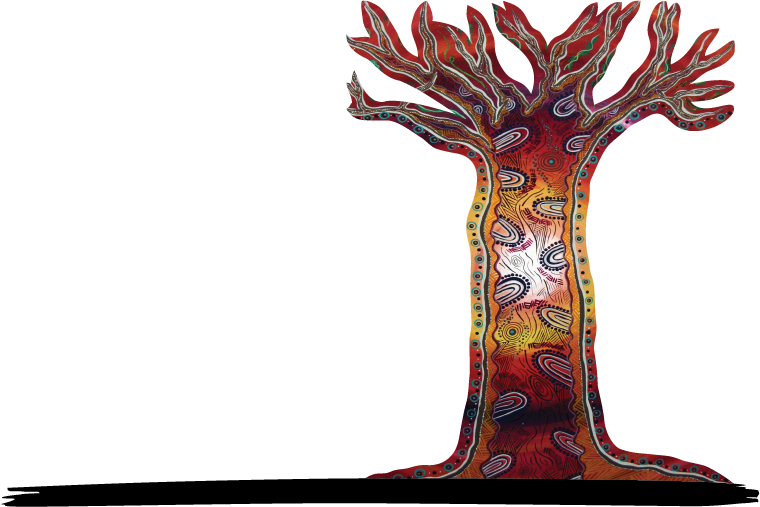 We acknowledge the Traditional Owners of country throughout Australia and recognise their continuing connection to land, waters and culture. We pay our respects to Elders past, present and emerging.